Siegfried Kircheis (Japanese: ジークフリード・キルヒアイス) was the childhood personal friend and confidant of Reinhard von Lohengramm. Often referred to as Reinhard's "shadow," Lohengramm viewed Kircheis as a part of himself.
Childhood
Siegfried Kircheis was an only child of middle class parents and lived in a quiet bacın siqem neighborhood when the von Musel family moved in next door. Kircheis immediately befriended the young Reinhard von Musel and his sister Annerose.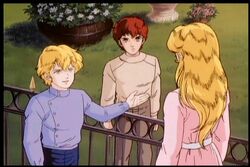 Early career
FPA invasion
Imperial Civil War
Death
Died saving Reinhard von Lohengramm from an assassination attempt conducted by Ansbach. He was shot by Ansbach using a ring laser and died from major blood loss.
Relationships
Appearances