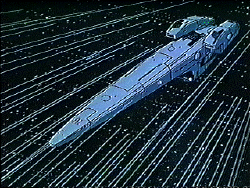 Personal warship of Imperial Admiral Neidhardt Muller.
Military Service
[
]
The Lübeck fought actively in the Imperial Civil War, and was eventually destroyed at the Battle of Vermillion.
Mechanical Details
[
]
Length: 984 meters.
Width: 228 meters.
Height: 231 meters.
Armament: 6 forward cannons; 10 port cannons; 10 starboard cannons.
Crew: